Many Tutors have searched online for the approved and updated first term lesson note for JSS3 Civic Education for 2023 but are still yet to get their hands laid on reasonable material. This post contains the complete Civic Education first term lesson note for JSS3 students. If you are a parents, guardian or Tutor, this piece of vital information is for you. Here you will get all you need to know as a tutor, all the required topics and objective of the first term lesson note for Civic Education for JSS3 students.
Please note that the first term lesson note is curled out from the government approved scheme of work for Junior Secondary school. So you can do your verification as well and compare the first term lesson note for JSS3 Civic Education as seen on the free PDF file made available towards the end of this post.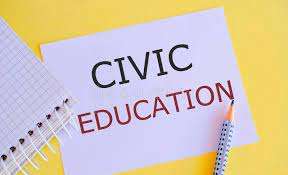 The JSS3 Civic Education lesson note for first term is in line with the 2023 JSS3 Civic Education scheme of work for the term. This means the JSS3 Civic Education lesson note is tailored towards achieving the aim and objective for the subject as mandated by the ministry of education.
Below is The Civic Education Scheme of work from which the Civic Education JSS3 first term lesson note was drafted from:
SCHEME OF WORK FOR BASIC 9 SESSION (FIRST TERM)
WEEK
Review of last term's work
Role of Citizen's in constitutional development
Process of constitutional development
3 National Security
Meaning; The role of citizen in mainting national unity e.g. vigilance, patriotism, obedience etc.
National security agencies: Military, Para-Military Services (Civil Defence), Police, State Security Service (SSS), Immigration Service etc
Self Employment (1)
Meaning of self employment
Forms e.g. Fashion Designing, Carpentary, Decoration, Bead making etc
Need for self employment
6 Self Employment (2)
Sources of funding
Agencies promoting self employment
Skills acquisition centres i.e. Women Development Centres (WDC)
Government Technical Centres
7 Managing for Results
Definition of Management
Need for effective Management
Benefits for effective Management
8 General Revision
9 & 10 JSCE Examination
BEHAVIORAL OBJECTIVES:
At the end of the lesson, the students should be able to understand and answer the following questions:
State four roles of citizens in constitutional development.
Identify four institutions that could promote meaningful contributions to constitutional developments.
Mention three security agencies in Nigeria.
State four functions of the police in national security.
State four functions of the military
State five functions of the NDLEA.
What is self employment?
What type of trade would you like to learn as a blue collar job? Explain in your own words.
List five sources of funds for self employed people.
State the full meaning of NAPEP.
What are the functions of NDE?
List four needs for effective management.
State and explain five benefits of effective management.
The above are what is expected of a JSS3 student to know and be able to understand with ease. The JSS3 Civic Education first term lesson note here is aided with images so it makes it easier not just for the students but for the teachers too.
I have made the JSS3 Civic Education first term lesson note available in a PDF format for free download without any extra cost as this would ease the passage of knowledge from teachers to students without hinderances. It is a my little way of giving back to the educational sector where I belong.
All you need do is click the download button below to get the PDF file of the Civic Education first term lesson note for first term.
JSS3 Civic Education First Term Lesson Note 2023
To get the updated JSS3 Civic Education first term lesson note for 2023 please see the download button below. You can save to your personal device so it can be accessed anytime.
I hope the above has helped? Please feel free to ask questions as regards the government approved JSS3 Civic Education first term lesson note for 2023 if you have any and I will be glad to assist.
Kindly make use of the share button below so others can gain from this vital piece of information.