This post is about candidates interested in the school of Nursing NAUTH (Nnadi Azikiwe University Teaching Hospital) application form for 2023/2024 academic session, admission requirements into S.O.N NAUTH, examination date and all information required by newly admitted student Nurses.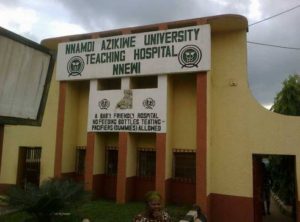 The admission into the School of Nursing NAUTH takes the following procedure:
ENTRY REQUIREMENTS:
Candidates ought to have well furnished as regards admission requirements into School of Nursing NAUTH, Since most schools of Nursing In Nigeria have the same entry requirements, it does not stop aspiring students to inquire about what it takes to clinch admission into the Nursing school of their choice.
According to School of Nursing NAUTH, for a candidate to be eligible for admission, he or she must posses the following :
A candidate should have a minimum of five credits at not more than two sittings either West African Examination Council (WAEC) or National Examination Council (NECO) in the following subjects: English Language, Mathematics, Biology, Chemistry and Physics.
RESULT COMBINATION: A candidate is only allowed to combine his/her result if it is from the same examination body e.g WAEC, and GCE or NECO and its GCE.
School of Nursing NAUTH (Nnamdi Azikiwe University University Teaching Hospital) admission form 2023/2024 academic session.
SALE OF FORM: The sale of S.O.N NAUTH application form starts from third week of January and ends third week of April of each year. Currently, applications are being received from suitably qualified candidates into various programs at S.O.N NAUTH.
COST OF THE FORM: The cost of the form is determined every year by the hospital management. Cost of application form is 15,000 Naira.
How to Apply for NAUTH School of Nursing Admission Form
The admission steps into the School of Nursing, Nnamdi Azikiwe University Teaching Hospital, Nnewi, for the 2023/2024 academic session is now open. Please follow the application instructions below:
Step 1 – The cost of the application form is fifteen thousand naira (N15,000).
Step 2 – Generate a remita at the School of Nursing.
Step 3 – Proceed to any bank for payment of the application fee.
Step 4 – Upon payment, visit the school premises to complete the application process.
Step 5 – Exchange the bank teller or payment receipt given to you at the bank for a Hospital receipt at the Hospital's account department.
Step 6 – Attach one passport photo to the original receipt and make a photocopy.
Step 7 – Fill out the admission form provided by the School of Nursing.
Step 8 – Submit the completed admission form to the School of Nursing, with your credentials attached.
Please note that you are to submit alongside your application form, three (3) passport photographs attached to the original receipt and a photocopy of such is also submitted together with the form.
CONDUCT OF THE EXAMINATION: Test Development Center of West African Examination Council (WAEC) conducts Entrance Examination in the form of aptitude tests. After the short listing, there is internally conducted written examination followed by oral interview as the last stage of the selection process.
SCHOOL FEES: As fixed by the board of management. But School of Nursing NAUTH school fees is between 150,000 to 200,000 Naira for fresh student Nurses, this is excluding acceptance fees.
ORIENTATION OF STUDENTS: Upon admission into the school, the students are made to understand their environment. This is achieved/actualized by an orientation program organized by the school during the (first week of the students resumption).
CAPPING (MATRICULATION) AND INDEXING: The capping ceremony is done once yearly to students who are successful in first semester first year examination (a.k.. PTS). On admission students wear white with no cap but during this ceremony, the successful students are dressed in the real school uniform which is off white and they are now given cap to wear with one line on it indicating that they are now fully admitted into the school.
Indexing is then done after this ceremony whereby the students names are sent to the Nursing and Midwifery Council of Nigeria for them to be registered as students with the board and given numbers. These index numbers are the students' identity with the board.
TRANSFER OF STUDENTS: Transfer into the school and out of the school is not allowed in this school.
MEDICAL EXAMINATION/CERTIFICATION OF FITNESS: Upon gaining admission into school of Nursing NAUTH, each student is expected to undergo a routine medical examination in the hospital and a letter of certification of fitness issued by the staff doctor, all things being equal. This test is performed on the students before they start their clinical posting in the first six months and the results are treated accordingly.
LEAVE/VACATION: The students are to have one(1) week leave/vacation after their first semester exams and two(2) week leave/vacation after their second semester exams (promotion exam). This makes a total of three (3) weeks leave/vacation in twelve (12) months /1 year.
With the above, we hope this has been able to answer your questions and all you wish you knew about School of Nursing NAUTH (Nnamdi Azikiwe University Teaching Hospital) Nnewi Application Form, entry requirements, how to apply, examination date and other important details.
If you still have questions as regards the above subject, kindly scroll down to the comments section , post your questions and we shall respond as fast as possible.